Former Tory leader @WilliamJHague tells @EmmaBarnett the UK will get a worse Brexit deal because of the #GE2017 result #5liveDaily pic.twitter.com/CO9HOOjuZV

— BBC Radio 5 live (@bbc5live) August 30, 2017
The R4 paper review this morning headlined with the pro-Remain Sunday Times own headline 'scoop' that May is being forced to do a deal with the EU on the 'divorce bill' and that she will keep it secret until after the Tory conference….unless it is headlined in the Sunday Times…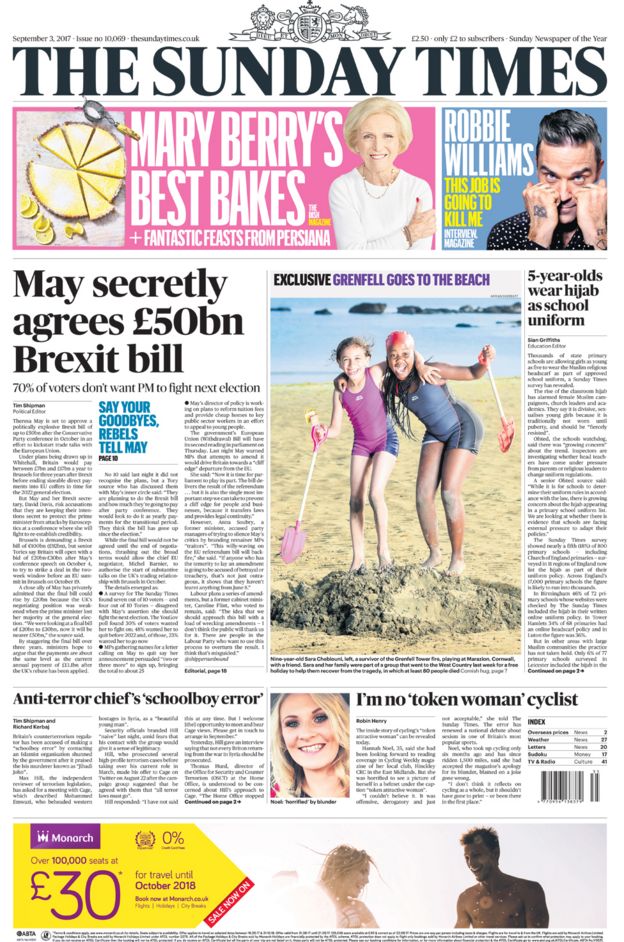 Hmmm…the BBC that is working closely with the pro-Remain Times promoting anti-Brexit stories promotes an anti-Brexit story in the Sunday Times this morning.
Curiously this week we had Emma Barnett interview the now pro-EU Iain Duncan-Smith who told us he wasn't here to talk anyone down but May's 'failure' in the election [where she got the highest number of votes for a Tory government for decades] meant she would have to go cap in hand to the EU, her weakened position undermining her negotiating power….it would cost us a huge amount of money.  This is also a line that Barnett was pushing hard in an 'interview' that was intent only on creating a negative impression of anything that May had done or said. IDS also blamed the voters for voting stupidly.  No doubt we will see the Osborne Evening Standard plough the same furrow with sensationalist headlines about a weak May failing on Brexit…and thus maybe we should just surrender and get back into the EU fold.
Note also how Barnett and Co got May's position as leader entirley wrong, telling us how she was likely to fall at any moment…despite all the sensible talk being of her surviving as the Tories wouldn't risk an election which Corbyn could well win…and just who would take over as leader?  When May announced she would stay to fight another election the BBC were aghast and were working hard to try and portray this as a flip-flop when they knew it wasn't…all she had said before was that she would stay as long as the Party wanted her, she said nothing about leaving at a certain date.  Th BBC has kept up a constant drumbeat of suggestion that the Tories are about to oust May in a leadership contest and yet there was absolutely no chance of that happening…the BBC is not bringing us news but is trying to make the news by interfering in politics, shaping it to suit their own agenda.  Who did they bring on immediately to criticise May on her announcement?  Cameron's pro-Remain, ex-BBC media spinner, Craig Oliver, who laid into May….why?  Who the f**k is he?  He's a backroom PR boy with nothing to do with the Tories other than once having been employed by the lefty Cameron as a sop to the BBC…why is he thought a credible voice to talk about May?
I'll be talking to @Emmabarnett about @theresa_may's decision to say she wants to fight another election just after 10am on @bbc5live.

— Craig Oliver (@CraigOliver100) August 31, 2017
Something 9f an irony that Barnett, and the rest of the BBC, is constantly trying to unseat May when in 2015 she moaned that women weren't at the top of politics and business.…then agan what's new?  The BBC spent years trying to unseat Thatcher and the rest of the time rubbishing her legacy.  Perhaps like the Labour Party they prefer women quiet and obedient or they get sacked.