If we can produce a visual image of a sail boat at 90 degrees north I think that could become an iconic image of the challenge that the twenty-first century faces. Are we serious about running this planet, which is actually what we need to start doing, and it's biophysical resources on a sustainable basis, or are we just here for a laugh?
Funny old world…and still quite cold in places.
The BBC has been plugging 'Arctic Mission'...an attempt to sell climate change to the public with a publicity stunt by sailing to the North Pole across 'ice free' seas…thus highlighting the dreadful warming of the planet.  Unfortunately, due to large amounts of ice, the mission has been put on ice and they have beaten a hasty retreat to safer, ice free, waters….now claiming it was all about the science and research and not a cheap stunt…they also claim they sailed the furthest north ever…..
Arctic Mission's furthest North was 80 degrees 10 minutes North, 148 degrees 51 minutes West, reached at 22:04:12 (Alaskan Time, GMT-9hours) on 29 August 2017 by yachts, Bagheera and Snow Dragon II.

It is believed Arctic Mission has sailed further north from the coastlines surrounding the Arctic Ocean than any vessel in history without icebreaker support.
That'll be except for in 1922 when a vessel reached 81° 29′ in open water [hmmm….so the Arctic was warm then too?  Thought 'man-made' global warming only started in the 70's]…..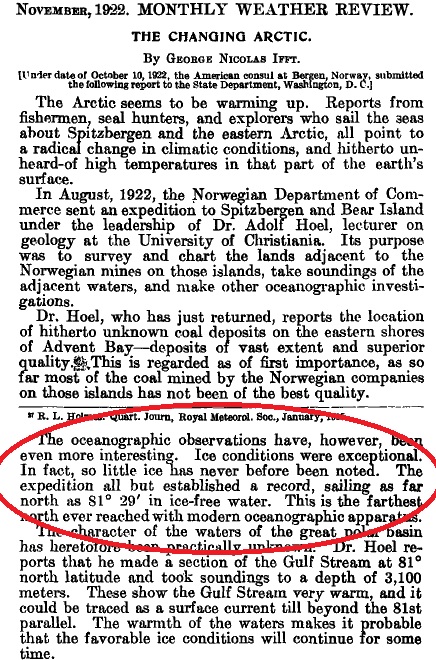 Oddly I can't seem to find any mention on the BBC website that the mission has failed miserably…strange when you think the prestigious Today show was giving so much airtime to following the intrepid explorers' journey….and now…not so much interest.
Here's Delingpole enjoying the non-spectacle greatly…
A sailing expedition to the North Pole to raise awareness of global warming has been forced to turn back, 590 nautical miles short of its destination, after the yachts found their passage blocked by large quantities of an unexpected frozen white substance.
Amusingly another Arctic jolly has had to be put on ice as its green solar powered kit packed up due to lack of sunlight…
An international team of rowers ended a record-breaking expedition through the Arctic Ocean on Monday after becoming stranded on a remote Norwegian island partway through their month-and-a-half-long journey.

But with the skies cloudy for days at a time, the boat's solar-powered batteries drained, and its electrical equipment shut off. That left the rowers without navigational aids and forced them to rely on manual steering, according to a post on the Polar Row Facebook page that recounted the decision to head for shore.