Labour believes education should

be free, and we will restore this

principle. No one should be put off

educating themselves for lack of

money or through fear of debt.

There is a real fear that students

are being priced out of university
Labour will reintroduce maintenance

grants for university students, and we

will abolish university tuition fees.

University tuition is free in many

northern European countries, and

under a Labour government it will
From the BBC…
Labour's plan sends a strong political signal to young voters.

It's a direct appeal to younger voters – with surveys suggesting that students are more likely to vote Labour.
Facebook and grime artists didn't swing the vote Corbyn's way…his great big shining lie about tuition fees did as he conned the young voters with promises of pot loads of cash.  He bought their vote and then screwed them.
Clegg paid a huge price….will Corbyn?  Not if the BBC have anything go do with it…so far there has been absolutely no BBC backlash, no inquisition into Corbyn's betrayal and u-turn, no interrogation, no holding feet to the fire…just an amiable chat with Marr…and remarkably a similarly amiable chat about McDonnell's claim that politicians murdered the Grenfell victims….no serious challenge to his claim…after all murder is a legal term not a useful political term as it is used by McDonnell to stir up anger and, he hopes, riotous 'days of rage'.
Now Labour is claiming that its statements about tuition fees were mere ambitions…a nice to have.  Not true.  Its manifesto made clear this was something that would happen under Labour…and the BBC certainly thought so as it indicates these were Labour pledges and promises.
Where is the BBC 'day of rage'?  If this had been May she would have been torn to shreds by now…but Corbyn?  The BBC aren't interested.  May was vilified for her u-turn on social care during the election….and, considering what happened to Clegg, Corbyn makes a huge, huge u-turn on a crucial issue and yet…nothing from the BBC, nothing serious.
Corbyn has utterly betrayed the young voters who trusted him and voted for him……the BBC seems entirely uninterested in them now…how different from before the election when the 'youth' vote was being urged to get out there and participate by the BBC….knowing of course that they would be likely to vote for Corbyn.
From the BBC pre-election: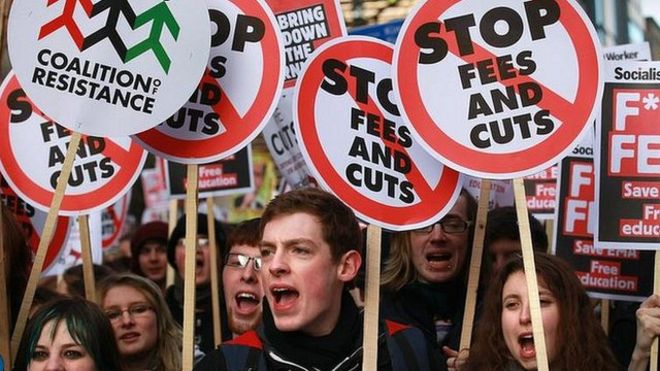 Labour says it will bring forward its pledge to scrap tuition fees to include students starting university in England this autumn if it wins the election.
The party also says students part-way through their courses would not have to pay for the remaining years.
Scrapping tuition fees in England is the biggest and most expensive proposal in Labour's £25bn worth of pledges for education.
Instead of fees rising to £9,250 per year in the autumn, Jeremy Corbyn is proposing a complete handbrake turn in saying that university tuition should not cost students anything.
This is Labour going for an all-or-nothing approach – asserting free education as a fundamental principle – and creating the starkest choice in university policy for two decades.
It's a direct appeal to younger voters – with surveys suggesting that students are more likely to vote Labour.
It makes the pitch that no-one should be deterred from university because of the cost or fear of debt.