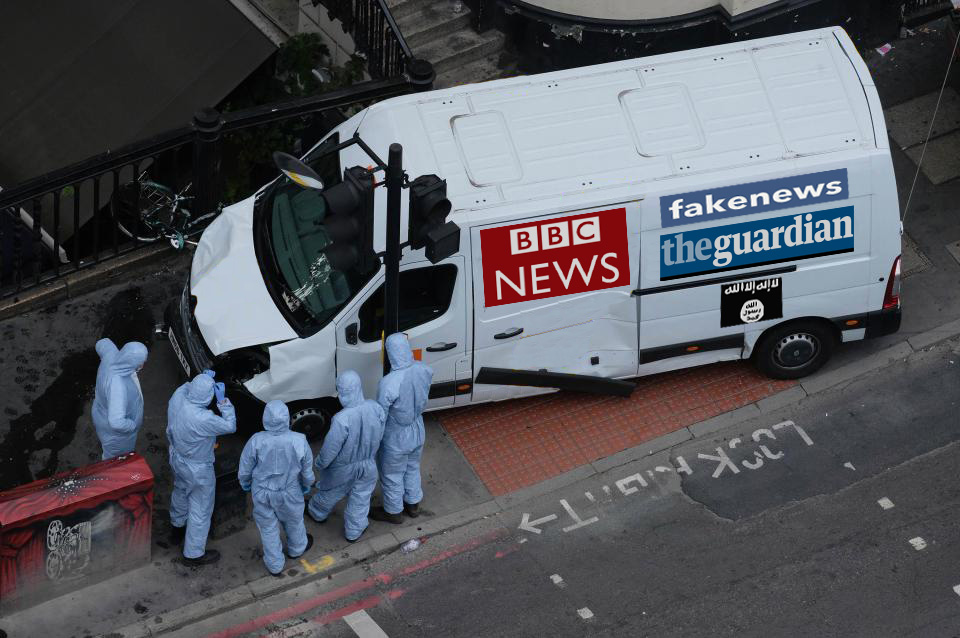 The Guardian produced a cartoon image of the van used by the Finsbury Park attacker blaming the Sun and  the Mail for 'radicalising' the driver…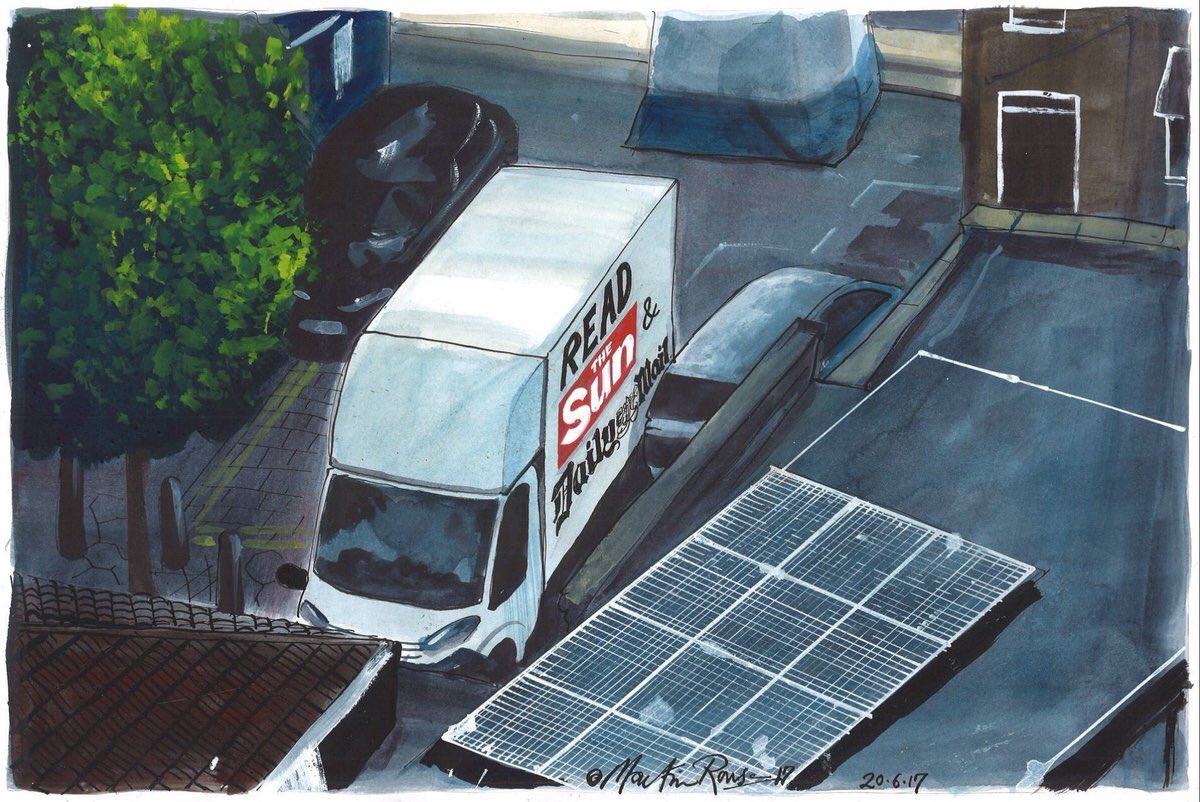 Just the usual anti-Mail and Sun slurs that we come to expect….not just from the Guardian but the BBC also which never lets a day go by without some snide passing comment about the Mail and of course blaming the tone of the Right-Wing Press for stirring up hate and division.
The BBC and the Guardian have over the years mounted a sustained and violent media campaign against British troops, the security services, anti-terror legislation, the police, the government and of course against all those who would speak up against the Jihadi Islamist threat…including many Muslims.  They have done more to help radicalise Muslims and justify terrorism in the name of Islam, done to 'protect' Muslims and an Islam under attack from the West, than any other MSM or unofficial media sources…..the stamp of approval from two such 'respected' and credible news organisations must have been invauable to the Jihadi cause as the Muslim community saw their prejudices and conspiracy theories confirmed by these two news sources.  Trouble is the BBC narrative is entirely false, its history a lie, a very dangerous lie.  Even now it is still pumping out the Jihadi narrative of the West using, exploiting and destroying the Muslim world…The BBC's latest history of the Middle East was a complete travesty, lie upon lie upon lie. And these lies have consequences….in places like Manchester, London Bridge, Westminster, 7/7, 9/11…not to mention in the Muslim world itself…where as is often said Muslims are the main victims.  But the consequences are far broader and more abstract than terrorist bombs and murders as the Media, politicians, authorities, education centres, legal system, workplaces and society as a whole appeases the Muslim community and adopts its Islamic practices in order to make Muslims feel part of society…Islamic State and its terrorists blow up their bombs in order to force Islam upon us…our answer…more Islam….we do exactly what the terrorists want…when we don't, we get threats from 'community leaders' that Muslims will be angered, some will be radicalised and there may be bombs…instead of arresting these community leaders we give them money, positions in our political parties and favoured status…any wonder why many have no interest in stopping the terrorism whilst at the same time 'condemning' it?
Remember this letter 'blackmailing' the government to change foreign policy…Sadiq Khan was one of those who signed it…you know, Khan who thought those who helped the government in its anti-terror programme were 'Uncle Toms'…the man  who is now Mayor of London…..
British Muslim groups have written to the prime minister calling for "urgent" changes to UK foreign policy.

In an open letter they say British policy is putting civilians at increased risk in the UK and abroad.

'It is our view that current British government policy risks putting civilians at increased risk both in the UK and abroad.

To combat terror the government has focused extensively on domestic legislation. While some of this will have an impact, the government must not ignore the role of its foreign policy.
We urge the Prime Minister to redouble his efforts to tackle terror and extremism and change our foreign policy to show the world that we value the lives of civilians wherever they live and whatever their religion.  

Such a move would make us all safer.'
The Mail hit back with a full page editorial today slamming the Guardian as the real Fascists and manufacturers of hate and fake news…all accusations that could so readily be made about the BBC…
The Daily Mail has launched its most savage ever editorial attack on long-time critic The Guardian accusing it of "fake news" and being a "purveyor of hatred".

The excoriating attack appears to be a declaration of all-out war against its left-wing rival. It follows various pieces of Guardian coverage including one which compared the Daily Mail to an "open sewer" and a letter which said it was an "organ of hate speech".

Daily Mail editor Paul Dacre appears to have been spurred into action by a Guardian cartoon which depicted the van which attacked mosque worshippers at Finsbury Park with the words: "Read Sun and the Daily Mail" on the side of it

In a comment piece headed: "Fake news, the fascist Left and the REAL purveyors of hatred" it said today: "..this week the Guardian published a cartoon so sick and disgusting – so deranged and offensive to the four million decent, humane and responsible people who read us – that we owe it to every one of them to lay to rest this malicious smear."

It added: "The Guardian was telling its followers that the Daily Mail and its readers are vicious bigots with the blood of innocent, peace-loving Muslims on their hands.

"If this had been an isolated example of the Left's bilious malice, we might have let it pass with nothing more than a shudder of revulsion…

"But this is far from a one-off insult to our readers, who – as should go without saying – were as horrified and appalled as the rest of the country by the Finsbury Park attack."

It noted that earlier this month Guardian online columnist Sophie Heawood tweeted: "Genuinely excited for a future in which the Daily Mail readers are all dead."

It also singled out Guardian writer Owen Jones who described the Daily Mail as an "open sewer" in March and complained about a Guardian readers' letter which yesterday described the Mail as "the main organ of hate speech in Britain".

It said: "For the Guardian's editor to publish such deluded, defamatory nonsense – which in itself is a naked incitement to violence – speaks volumes about the hatred that drives this 'voice of liberalism'."

The Mail said it wouldn't matter if The Guardian's "infantile lies" were confined to the pages of a "little-read dying paper".

"But in this age of social media, they are spread and amplified through the great distorting echo-chamber of the internet, where the mob really does rule…"

It said: "For the record – not that this matters to the fake news the Guardian creates about the Mail – this paper has always been against UKIP, so much so that Nigel Farage blamed as for his lack of electoral success."

It also noted that Mail was against the wars in Iraq and Libya, was the first paper to condemn Guantanamo Bay and has consistently opposed UK involvement in torture.

It also noted that its campaign to bring the Stephen Lawrence murderers to justice "did more to improve race relations in this country than anything the Guardian has ever achieved".

The leader accuses The Guardian of "criminally stupid business decisions" which have lost it hundreds of millions and says "in the name of sanctimony, what, when you handle your own affairs so badly, gives you the right to sit in judgment on other papers?"

And it says: "Your jaded product is addicted to subsidy and steeped in public sector mentality."

It concludes: "The truth is that the Guardian and the fascist Left are the real purveyors of hate in this country."

It also notes that Mail Online is a "totally separate entity" from the daily paper with "very different world view".

Hitting back at a Guardian story that claimed controversial columnist Katie Hopkins wrote for the daily paper, the Daily Mail said: "That was a lie.

"The Guardian and its writer know that Ms Hopkins has nothing to do with the Daily Mail, but works for Mail Online – a totally separate entity that has its own publisher, its own readership, different content and a very different world view.

"The Guardian knows this because the Mail has told it countless times, but, hey, why let a little lie get in the way of a good smear?"

A Guardian spokesperson said: "Guardian journalism is based on principles of quality, trust, integrity and facts."