Burnham was on the Today show this morning, admirably he refused to be drawn into making a political statement despite Mishal Husain trying to coerce him to do so.   However that's where the good news ended as he went into a little rant about the bomber not being Muslim and that he didn't represent the Muslim community.  Trouble is the bomber was a Muslim and his family was strongly religious…the bomber as a youth learnt the Koran by heart.  His family were also it seems very much into Jihad.  And we know that ISIS is nothing if not 'Islamic', indeed it is history brought to life as it pretty much replicates Muhammed's own blitz across the Middle East…not to mention some of his less savoury dealings with those who opposed him.  As for representing the Muslim community?….maybe they do not like his methods but they certainly back what are his likely politics…let me guess…problems with British foreign policy [despite removing from power Gaddafi who drove his family from Libya], problems with Western culture, rampant Islamophobia and Israel…all the usual narratives that are the staple fare of the Muslim 'dinner table', Muslim 'social media', and peddled by the BBC as well.
Burnham has a long history himself, a history of being  a useful idiot for Muslim extremists as he worked to close down the Prevent anti-radicalisation programme and suggested Muslims could not trust the police….so it comes as a surprise to see him now telling us how wonderful the police are in response to the Manchester bomb…
I want to thank the hundreds of police, fire and ambulance staff who worked throughout the night in the most difficult circumstances imaginable.
This was Burnham not so long ago telling us Prevent targets Muslims, it encourages Islamophobia and drives Muslims into the hands of the extremists…
"If governments are doing things to almost legitimise things in some way by saying this community does need to be treated differently, it does need to be watched at a local level, because there's danger here in terms of behaviour, that is highly problematic."
Has he changed his mind?  I wonder if he thinks we should be watching anyone in particular now as so many young people lie dead because of fools like him?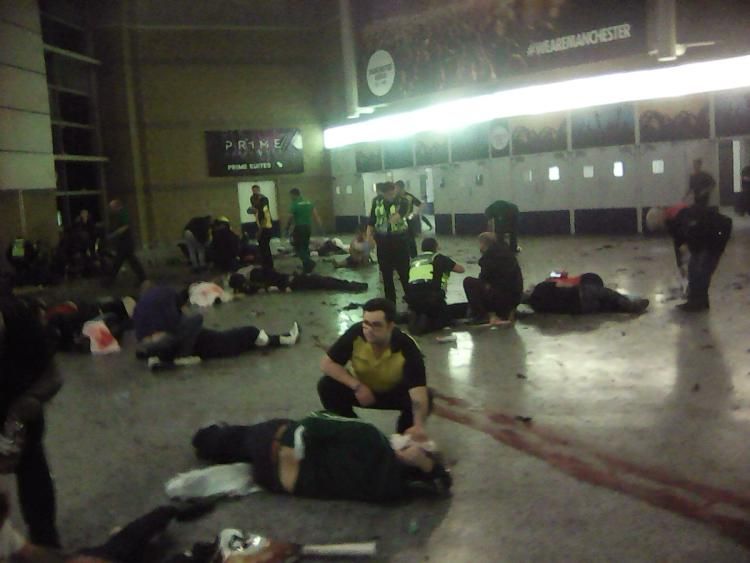 Something of an irony, a sick one perhaps, that he expresses so much sorrow at the bomb when he has done so much to hinder the security services…
After our darkest of nights, Manchester is today waking up to the most difficult of dawns. It's hard to believe what has happened here in the last few hours and to put into words the shock, anger and hurt that we feel today.

These were children, young people and their families that those responsible chose to terrorise and kill.  This was an evil act. Our first thoughts are with the families of those killed and injured. And we will do whatever we can to support them.

We are grieving today, but we are strong.
Burnham was quite happy to line up with Muslim radical group MEND…
A senior Labour MP vying to be the first elected mayor of Greater Manchester has shared a platform with a Muslim pressure group accused of being led by "extremists", after implying Muslims should not work with police.

Andy Burnham, a former cabinet minister, appeared at a mayoral hustings organised by the "anti-Islamophobia" group Muslim Engagement and Development (MEND) on Saturday, The Times reports.

MEND regularly works with members of CAGE, which has supported terrorists and called Jihadi John a "beautiful" man. The group is led by Azad Ali, an Islamist who lost a libel battle with a newspaper that said he was "a hardline Islamic extremist who supports the killing of British and American soldiers in Iraq by fellow Muslims as justified".

MEND director Mr. Ali has also written on his blog of his "love" for Anwar al-Awlaki, the al-Qaeda cleric closely linked to terrorist plots including the September 11 attacks, and described al-Qaeda as a "myth".
Harry's Place looks at his stance on Prevent…
Andy Burnham has come out with some pretty hysterical claims about Prevent, the Government's counter-terror strategy. At a time when it has emerged that MI6 will be recruiting around 1000 new spies in light of the grave "lifetime threat" ISIS poses to our national security, this threat is obvious to most of us, but not to our shadow Home Secretary of all people.

In June this year, he called for Prevent to be scrapped and even compared the strategy – a strategy operating in the non-criminal space and which offers support to those most vulnerable to radicalisation – to "today's equivalent of internment in Northern Ireland."

The ridiculous and frenzied claims don't end there. Burnham, giving Islamist anti-Prevent activists the best gift one could give, has even claimed that it is Prevent which "risks creating the very conditions for it (extremism) to flourish." Let's take a moment to think about that. A strategy which has successfully stopped people from travelling to Syria, including children, which has generated ISIL counter-narrative videos viewed millions of times, is what, Burnham is suggesting, is causing extremism to flourish in the UK. It's not ISIS propaganda, or British pro-ISIS fanboys tweeting day in day out or even the plethora of extremist preachers operating on our campuses and communities as Harry's Place has long evidenced that is causing extremism according to Burnham. No it is Prevent.

Conflating anti-Muslim hate crime with a strategy which seeks to counter radicalisation, Burnham now also claims Prevent "risks legitimising or inspiring Islamophobic hate crime" as opposed to the acts of Islamist terrorists which Prevent seeks to deter.
Good though to see him grandstanding and telling us how terrible this bombing and mass murder is…of course he is in good company in a BBC studio, the BBC which has also done so much to promote the idea that Prevent is 'toxic' and targeting Muslims…as if that were somehow wrong…'not all Muslims are terrorists but'...Mishal Husain didn't think it necessary to challenge him on his claims.
Which groups were the original driving force behind the campaign to attack Prevent?  It was Muslim extremist groups like Cage who for very obvious reasons wanted to shut down a programme that was designed to stop radicalisation and terrorism.  Why did the BBC think for one moment that promoting that narrative would be a good idea?  It is also notable that Baroness Warsi, the one who wanted to disarm Israel and arm the terrrorists of Hamas, was a very vocal opponent of Prevent…why would that be?
Useful idiots promoting Muslim extremist's propaganda…one the Mayor of Greater Manchester, the other one of the most influential and powerful media organisations in the world.  No wonder people vote for the  likes of Trump.