The BBC's long march against UKIP and 'The Right' continues as it asks 'What is the point of UKIP?'.  The BBC of course doesn't ask 'What is the point of Labour' as it implodes having been taken over by the nasty Marxist's of the People's Not So Popular Front of Islington.
Always remarkable how UKIP is labelled 'Nazi' merely because they promote the idea that immigration should be controlled, just controlled, not stopped completely as the BBC likes to imply. Nicky Campbell dragged in the very bitter Nikki Sinclaire, expelled from UKIP, to tell us why UKIP is history…no bias there.  We also had a caller who told us that UKIP was Far Right just like the BNP…and one who suggested some UKIP members were 'plants' for other parties…guess which suggestion Campbell mocked and derided?
I would suggest there is more point than ever to having UKIP around now that we see the Remainers working hard to undermine Brexit by every means possible….helped enormously by having Remain campaigner Phillip Hammond as Chancellor and doing his utmost to talk down Brexit at every turn and to subtly change the terms of reference…such as saying freedom of movement will still be available for the 'highly skilled'.  Well no…it is not up to the EU to decide who comes here, it is up to the UK to decide….so no EU imposed freedom of movement even for 'special groups'.  If we want highly skilled people then they can come but under UK admission rules not because the EU waves a magic wand.  And of course Hammond still wants to stay in the Single Market….so not really a Brexit fan at all and entirely untrustworthy as a negotiator for Brexit.  Should the likes of Hammond successfully block Brexit I imagine that the renovation of parliament won't be a problem as the Peasants revolt and storm it.  Can't see a betrayal by the political class and the media lefties being taken lying down on this one.  Trouble ahead.
This morning on R4's Broadcasting House we heard another addition to the BBC's long sneer (28 mins) at UKIP as it again tried to paint it as racist and an irrelevant rabble.  We were told we'd have a quick run down of UKIP background but you'd have little idea that this has been a highly successful party that has brought the Liberal Establishment to a heightened state of panic, not only as it disembowels Labour and scoops up its supporters with 4 million voters, but has also been the driving force behind one of the most momentous events in British political history…Brexit of course.  The BBC preferred to mock and 'Trumpify' it by suggesting it is packed with violent, sexist, probably racist, back-stabbing people who have no interest in 'ideology'.  They dragged in Michael Crick to do a little hatchet job….apparently UKIP is the worst of the worst…no other political party has any of its problems or attitudes.  The presenter finished off of course with a suggestion that the 'tone' of UKIP was a bit nasty…..again based upon what?  Labour complains that the Tories have opened the Gates of Hell because of their new found desire to control immigration and then we have Labour's Keir Starmer saying we must control it…though the BBC concentrates on his thought that we must have a vote on Brexit….whereas the Mail tells of 'major split' in Labour…
Curious how immigration was a BBC top story when attacking the Tories but it is relegated to a back seat when a Labour person, in complete opposition to his leader's views, back the Tory stance.
Not suggesting the BBC would like to promote the idea of a vote by MPs on the terms of Brexit..in other words an end to Brexit…but, well, that's the case isn't it.  BBC politicking for the Remian camp as always.
Oh yes…LOL...Baroness Manzoor…obviously a racist…..wants Brexit….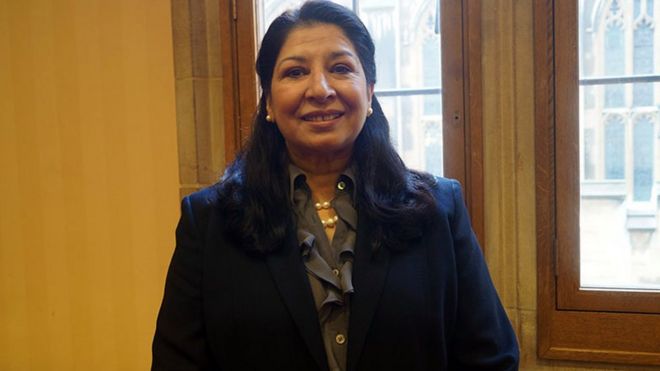 The BBC's narrative that Leave voters are all racists is clearly absurd, the BBC's labelling of all white people in such a manner is bad enough but to completely ignore the evidence that many non-whites and non-Brits support Brexit is massively dishonest and nasty especially as that narrative of demonising white people, is used for political purposes to smear 'Brexit' as the offspring of a racist 'ideology'.