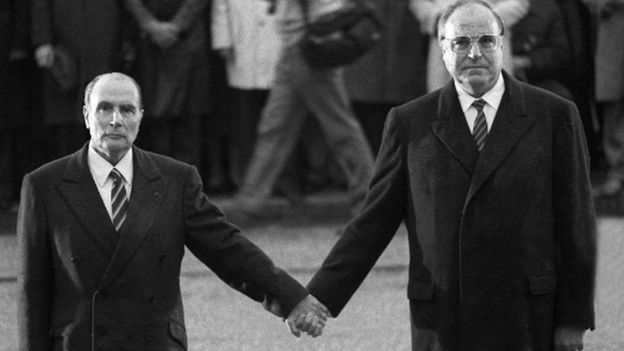 Cameron resorted to wild-eyed rhetoric exclaiming that voting to leave the EU will result in another world war and despite being widely ridiculed for his stupid, divisive and wrong hyperbole the BBC has quietly taken to promoting his pro-EU propaganda that war will be the inevitable result of a leave vote.
A story about the Battle of Verdun in WWI has been hijacked by the BBC and has been presented to us as symbol of EU solidarity and the importance of unity ending the report with this…
Verdun also became the symbol of European reconciliation. Chancellor Helmut Kohl and President Francois Mitterrand held hands there in 1984 and on Sunday, Francois Hollande and Angela Merkel will speak again of their shared European vision.

For the UK, the Somme centenary on 1 July will be this year's main World War One moment. For British, Irish and Commonwealth families, it is the Thiepval memorial and the poppy fields that captured the collective memory.

In both countries, the need for a single transcendent focus has obscured wider appreciation of the history of the war.

But 100 years on, there is still much to learn.
Yep, much to learn…such as the Germans have long had a dream of a shared Europe..under their leadership…even now they seek to head the secret EU army that is being created and they already control the EU economy…just ask Greece and Ireland…but the BBC hasn't, as we've noted in the previous post, bothered to report such significant events.
Why does the BBC choose to report things that present a rosy picture of the EU but not those that illustrate the truth about its political ambitions and empire building?
Did it for instance report the arrogant Juncker's threatening words?...
'Deserters will not be welcomed with open arms': Brussels chief issues stark threat that EU will punish Britain if we vote to leave

Britain will be treated like a 'deserter' by the EU if it votes to leave, the president of the European Commission has said.

Jean-Claude Juncker warned that Germany, France and other states would not 'bend over backwards' to help if the UK abandoned the union.

It is the latest bloodcurdling threat about the consequences of cutting ties with Brussels.

The French finance minister previously sparked fury by insisting the UK would be 'killed' by its former partners in negotiations over a post-Brexit trade deal.
Why would any country wish to be ruled by such an egotistical and imperious, jackbooted dictator?  Nice to have the choice though…the choice the BBC doesn't want you to have as it covers up Juncker's revealing comments.