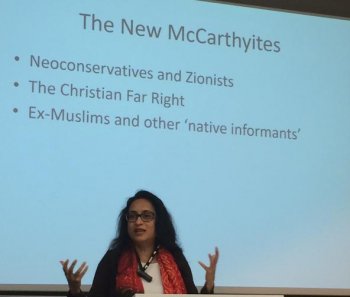 Bagley in the comments brought us the latest bit of 'race' baiting from BBC Trending, something that the BBC specialises in, generating anger, dissent and conflict where it can with tales of the White man's evil ways or of the treachery of ex-Muslims and 'native informants' in criticising their own community.
Craig at Is the BBC biased?….LOL...has helpfully transcribed much of the interview and I have pulled the BBC interviewer's comments out for your pleasure….note her chosen defender of the faith is a Muslim BBC employee…interesting to see how he wants to shut the critics up….what's he hiding?…
'Thousands explained why they left Islam online, using the hashtag #ExMuslimBecause, but some thought the discussion was badly timed, and labelled it 'hateful'. We meet the woman behind the campaign, and ask if she intended to create such a pointed conversation.

A-MT: Is there a risk that there are others out there who would look at a hashtag like this and might not necessarily be prepared for the kind of backlash that might lie in store for them? 

A-MT: One of the tweets that I noticed was saying that this hashtag was more or less giving people an opportunity to bash Muslims. What do you have to say in response to a statement like that?

A-MT: 'Can you speak?' is one thing'; 'when to speak' is another. And when you look at the recent news events – say, for example  what happened in Paris, the Paris attacks. Let's look at the refugee crisis around Europe. Did it occur to you that this was possibly not the right time to put out a hashtag like this? 

So quite a strident tone coming from Maryam Namazie.'
So in summary….explaining why you want to leave Islam is hateful, islamophobic, bigoted, bashing Muslims, dangerous in the present day climate [for Muslims] and doesn't play well with the BBC's narrative on immigration.
And you thought you could trust the BBC to bring you the news unadulterated, uncorrupted, by the bigotry, partiality, dishonesty and stupid, childlike naivete of its employees.
Not the first time the BBC has wanted to silence Maryam Namazie.…and reported less than honestly…
Open letter to BBC Sunday Morning Live on its unfair and biased reporting

 

Maryam Namazie
8 September 2010 BBC Sunday Morning Live invited me to join its debate on whether 'it is right to condemn Iran for stoning' on 5 September 2010 via webcam. During the debate, the programme allowed only two interventions via webcam (that of Suhaib Hassan of the Islamic Sharia Council and Mohammad Morandi of Tehran University – both of whom were in support of Sakineh Mohammadi Ashtiani's stoning and/or execution). I (who had presumably been invited to defend Ms Ashtiani and oppose stoning in the debate) was never given the opportunity to speak. To the BBC's Sunday Morning Live Programme I am writing to ask that you rectify gross inaccuracies regarding Sakineh Mohammadi Ashtiani's case and that of stoning in Iran in your upcoming programme……
Back to BBC Trending...here is Maryam Namazie's response in full….
Ayatollah BBC and #ExMuslimBecause

I was interviewed by Anne-Marie Tomchak for thirty minutes for BBC Trending on 26 November. Despite my also having referred 4 ex-Muslims, including those who maintained anonymity whilst Tweeting for #ExMuslimBecause due to fears for their safety, the programme spoke to Mobeen Azhar and Rashid Dar, two men who identified themselves as Muslims, about my segment which was highly edited for BBC World Service on 28 November.

The presenter Tomchak and the two Muslim men framed the entire discussion about apostasy and the basic human right to leave and criticise Islam without fear into one that was "hateful," "bigoted," "an attack on Muslims," "Islamophobic," "opportunistic," "quite offensive"…

By doing so, they intentionally blurred the distinction between the criticism of Islam (an idea) and Islamism (a far-Right political movement) with bigotry against Muslims. For far too long, apologists like the BBC have conflated the three in order to silence critics by deeming any criticism of Islam and Islamism as bigotry against people. This despite the fact that Muslims are not a homogeneous community or society.  There are many secularists, freethinkers and even ex-Muslims amongst them (as the trending of #ExMuslimBecause shows). For every Muslim who opposes ex-Muslims, there are others who support the right of ex-Muslims to leave or criticise Islam without fear.

Nonetheless, Tomchak and her "experts" insist that #ExMuslimBecause was "bad timing" due to the Paris attacks. For apologists,  the timing for dissent is never right.

Whilst we mourn our dead in Paris, we must not forget the countless others killed by ISIS and Islamists, including this very month in Lebanon, Nigeria, Mali, Iraq, Egypt, Bangladesh, Pakistan, Afghanistan… as well as those executed perfectly legally via Sharia laws in Iran, Saudi Arabia… The refugee crisis is in large part due to this unbridled brutality.

In fact, if there ever was a "right" time to challenge Islam and Islamism, it is now.

Yet Tomchak says: "quite a strident tone coming from Maryam Namazie and the way she uses the term Islamists," whilst Azhar says: "it's quite uncompromising since there are many shades of grey amongst Islamists; lumping Islamists together is not going to be most helpful"… Luckily, many Muslims do not have the sympathy for Islamism that Azhar and Tomchak show. After all, Islamism kills more Muslims than anyone else.

What is embarrassingly obvious in this BBC report is that along with the misinformation on the "theory" behind apostasy laws which kills apostates  as we speak, any patronising "concern" for Muslims is fundamentally about defending Islam and Islamism at the expense of dissenters.

That's why their response to #ExMuslimBecause is so hateful; it sees dissent through Islamist eyes.

It is also why the report widely misses the mark for basic standards in objective journalism.

Maybe this example will help Tomchak and the BBC understand what they have got so very wrong (though I am not holding my breath). What they've done in their report on #ExMuslimBecause is similar to labelling critics of the Magdelene Laundries or Symphsiotomy as "strident," "Catholic bashers" or "openly hostile to the Catholic Church." Such accusations do a gross injustice to those who are merely demanding what Tomchak and the two Muslim men take for granted – the right to believe in what one wants without fear.
I know the BBC and its "Muslim community specialists" would have preferred us to raise #ExMuslimBecause in private over coffee. Regressive laws and fascist movements, however, are not pushed back over private chats but via normalising the taboo and through very public challenges and renunciations.

Every movement – from the demand to end racial apartheid, for gender equality, and LGBT rights – were battles fought in the public square. The right to apostasy and blasphemy is no different.

Remove all the BBC's bogus accusations and one fact remains: the right to religion comes with a corresponding right to be free from religion. #ExMuslimBecause is part of the effort to bring about that hugely important change.
Surely this Tweet is bashing Muslims, don't they feel left out with all these memorials for the people killed by Muslims?  Careful what you say and think……
Watching the memorial to honour the victims of the #ParisAttacks. What a display of humanity, dignity and solidarity.
How ironic…the BBC's Anne-Marie Tomchak is an ardent feminist and yet she seeks to silence women who leave Islam, and leave quite possibly because of the way they are treaated by that religion…
Here she is boasting of her work in the feminist cause…..