Very, very funny today on Today…Justin Webb stunned before a prolonged squealing of indignation whined its way out of him.
They're talking about racism in the acting business and why Black actors apparently have to go to the US to get work.
Black actor Gary Beadle says that we are in denial….'There is', he said…Webb interrupts to suggest 'racism'…Beadle says…'No…more 'institutional attitudes' [racism then]…and it's 'rampant in the Arts'.'
Which is on one level funny/ironic…because of course it's the 'Arts' mob that is always taking the high  ground on moral issues…when we know they are as bad, if not worse than everyone else….Russell Brand springs to mind for instance.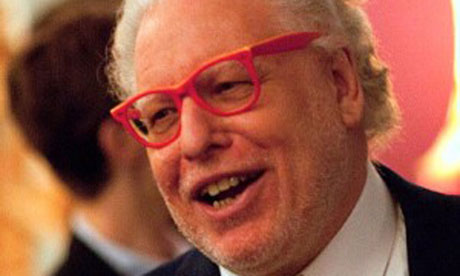 Then Simon Albury,  diversity co-ordinator for the Arts (to promote, celebrate and share good practice around the diversity agenda) spoke up….he laid into the BBC…
Having walked through the BBC's news room  ( with the posters of George Bush as Hitler?) , in the middle of London, when London is 40% black and minority ethnic, he saw one Asian who was there merely to bring guests in, otherwise the news room was fully white, behind him was a control booth, in it were 6 white men and 1 white woman….it's clear, he said, that the broadcasting,  film and creative industries cannot be trusted to deliver (diversity).
Webb lost it then, his beloved BBC under attack and he in turn attacked Albury….hardly able to get the words out he said:  'You're head of the diversity organisation and you're white…'
The meaning of that was perfectly clear…if you're white you cannot possibly make a judgement about racial discrimination…because of course being white you must in fact be a racist.
Well…that's a bit racist in itself….and it begs the question what colour does Justin Webb think he is himself?  Does he have no mirrors in his house?  And yet he quite happily sets up his little kangaroo court day in day out 'judging' various things about which he has little real experience.
Albury counters…'It is ironic you've invited me here instead of Trevor Phillips or Lenny Henry'.
Webb…'Well you needn't have accepted'.
So there…
Well…perhaps someone has to stand up and make some noise because if you're Black and complain you may not work in this here BBC town again…..
Patrick Robinson, who has appeared in television series such as Casualty, claimed that he was ostracised by one of the BBC's executives for almost a decade after he spoke out about the lack of opportunities for black actors.
For the BBC, the consideration of equality and diversity is vital. Strong reach and share, high quality programming and high audience appreciation across all our output are essential to the continued success of the BBC and we recognise diversity as a creative opportunity that enhances the originality and distinctiveness of our output and drives innovation. One of the BBC's core values is 'working together' and to us that's just as important beyond as well as within the BBC. Working in collaboration with other broadcasters and media sector bodies has helped the CDN establish a clear common vision of what good looks like – in terms of increased diversity on and off screen. The job now is to find practical and creative ways to make that happen and to build on work already undertaken. It will only be by our continuing to work together that we will make the most sustained impact.
Oona King was more impressed  by Albury….
Oona King, now Baroness King of Bow, paid tribute to Albury's championing of diversity in broadcasting, and said that his legacy included being "at the forefront" of the establishment of the industry's Cultural Diversity Network. "He was persistently coming up with ideas to unlock the unyielding grip white men had on the broadcasting industry," King recalled. "I love white men, I think they are so great I married one … I think they are wonderful, But I felt they shouldn't be the only group in charge of TV."
But is it all to do with 'race'?
Black actors complain of being stereotyped in the UK…however similar complaints are made by white actors who go to the US:
Oscar-winning actress Dame Helen Mirren has complained about British actors being typecast as villains.
''I think it's rather unfortunate that the villain in every movie is always British, we're such an easy target that they can comfortably make the Brits the villains.
"It's just nice to say we're not snooty, stuck up, malevolent, malignant creatures as we're so often portrayed. We're actually kind of cool and hip!"
And….
Speak to some producers working in US television and they will admit cost is an issue.
Cheap labour
"More value-for-money, that's really what it is. If they wanted someone experienced and I was American, they'd pay a lot of money – and I'd be better known, I suppose. We're cheaper."
English actor James Purefoy, who played Mark Antony in Rome, believes the network of British actors is perceived by American colleagues as cheap labour.
"We are often referred to in Los Angeles as white Mexicans," he told an audience of British hopefuls at a seminar on how to make it in America.
Then there's the fact of life as an actor…you're mostly just 'resting'…..
As we mentioned in a previous article, it's a fact that at any one time around 90% of actors are out of work, and only 5% of the remaining ten percent make a living from doing just acting alone.
There's clearly only a small pool of successful actors and decent jobs out there….only 0.5% of actors can make 'a living' purely from acting.
So there's a massive amount of competition out there treading the boards…so just how far should the special pleading and positive discrimination go?
Though this is a fair question…
As some one new to acting , being an ethnic minority, has been an interesting position.
I look at some of the roles advertised as white, Caucasian( another name used to describe non ethnic minorities) and think does that role need to be for a white Caucasian person?
For instance, a fitness instructor, the advert says must be white, why?
This issue has been making headlines for a while now……..here's a Guardian article from Feb. 2012:
Why black British actors are heading for the US
'Talent drain' warning as black actors head to the US
TV and theatre is suffering from a talent drain of black British actors, with many looking to the US for work because of the lack of opportunities in the UK, leading figures have warned.
Webb's reaction to criticism of the BBC was classic BBC…an unwillingness to accept it, usually it is either laughed off as 'ridiculous nonsense' or, as here, they get very tetchy.
Of course all the more enjoyable to see the self proclaimed 'great and the good', BBC included,  pilloried for what the BBC considers the most heinous crime…racism.