The BBC never seem to tire of Owen Jones….they must think he has something worthwhile to say….well, not so far.
Right, doing #bbcpapers on the BBC news channel with @neilwallis1 at 10.30 and 11.30. Time in if you like. Otherwise, well, don't

— Owen Jones (@OwenJones84) November 20, 2013
On @BBCFreeSpeech on BBC 3 at 8 with an eclectic panel debating everything from the political elite to foreign aid

— Owen Jones (@OwenJones84) November 20, 2013
Karl Marx in London: Owen Jones on Marxism
He pops up again on the Beeb, this time his derivative Marxist pap on the prestigious RTS Huw Weldon Memorial Lecture:
Totally Shameless: How TV Portrays the Working Class
From Little Britain's Vicky Pollard to the Jeremy Kyle Show to toxic documentaries on 'feckless scroungers' – writer and broadcaster Owen Jones argues that this growing strain of malevolent British TV programming denigrates the working class.
Of course that is how the working class are always portrayed by TV:
It's a shame that a person who propagates an ideology that is so old and so discredited, one that has caused so much death and misery in the world, not least for the 'working classes' he pretends to speak for, should be given such a platform, the respect for which can only lend 'authority' to Jones in future and give his Marxist ramblings credibility.
Jones cleverly limits his outrage, crocodile tears some might say, to the TV's depiction of the  'working class', to 'Chavs' in particular….because of course TV only mocks Chavs…upper class twits or 'exploiters' of the poor, or middle class pretentions are never ridiculed by TV…
Safe ground he calculates, lucrative ground, Jones is the 'Wonga' of the 'Wonks', a poverty parasite…making a splendid living whilst 'helping' the poorest in society out…knowing he will get immediate approval for his pious grandstanding ….and so it proves with a very rewarding career, built like the Cathedrals of old, on the sweated labour of the very Chavs he says he is speaking up for….to the Glory of Owen.
Vicky Pollard… her story is actually a bit of an inspirational one….she used to be a bit of a tearaway however she has turned her life around:
http://www.youtube.com/watch?v=6MatUG_xTMg
And the posh birds don't get the same treatment do they?
The trouble is, and the reason why the BBC should think twice before giving him so much prime air time,  Jones is a Labour Party stooge…he works for the Unite union, which of course is the principle backer and influential policy 'adviser', to Miliband.
As Guido tells us: he is a paid lobbyist for UNITE the union and as such he should be registered. When Guido called his CLASS think-tank recently the phone was answered by someone who said "CLASS or UNITE business?" It is just a lobbying front for Red Len…
When Miliband has staked his political future on being seen as the man who can put an end to his so called 'living standard's crisis',  to have Owen Jones continually invited onto the BBC to promote that idea, whilst not admitting his close ties to Labour, is verging on the dishonest.
Class seeks to shape ideas that can inspire the trade union movement, cement a broad alliance of social forces and influence policy development to ensure the political agenda is on the side of working people.
National Advisory Panel Owen Jones advises Class on policy direction.
Jones doesn't like how the 'Working Class' are portrayed…but he's not above shutting down debate and labelling those who disagree with him…'demonising' trolls….despite all those appearances on BBC's 'Freespeech' programme…..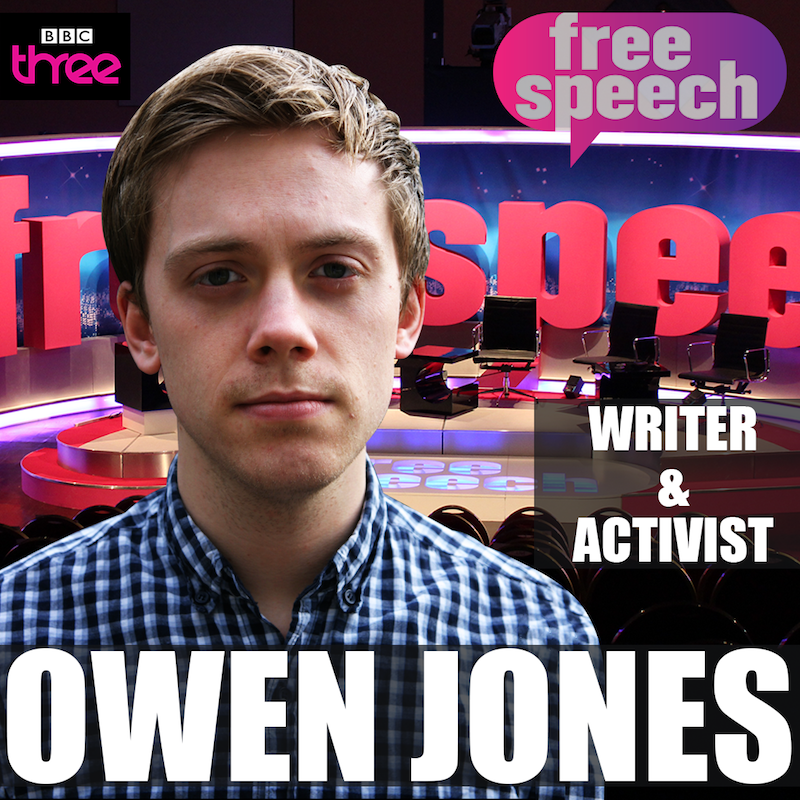 It's flattering to think they regard the right to follow me on Twitter as a basic civil right
This is normally how it goes: they'll spray something across my timeline like "Go live in North Korea you communist prick", then I block them, meaning I won't be able to enjoy their Wildean wit anymore. They then wail to the world that I have attacked their freedom of speech, presumably in the same way that hanging up on a crank call or walking away from a pub bore is attacking free speech.
The odd thing is those 'Trolls' are probably the very 'Chavs' he defends elsewhere…..people who see through his pretensions and express their contempt in the way that comes naturally in the society they move in….by sticking two fingers up to him…verbally.
Owen Jones, 'the slave of some defunct economist' is little different than Islamist extremist Anjem Choudary,…a cheap huckster, a 'poverty hustler', generating false grievances, inciting anger,  encouraging class conflict, both 'distilling their frenzy' from the ancient scribblings of a charlatan they have latched onto and used to lend credence and authority to their own ramblings……the carpetbagger of cheap and incoherent ideas, exploiting the poorest in society, troughing away whilst talking about inequality and the gap between the rich and the poor as he gets paid a couple of grand for a column in the Guardian or Independent.
You could respect him if he lived his ideals…but he doesn't….when he earns what must be at least 5 times the weekly wage of many working class people for writing a single column in a newspaper, regurgitating stuff that's been said a thousand times before, not even original stuff, how can he justify his pretence of being the 'People's Champion'?
You can't really take him seriously until he joins up with the likes of Polly Toynbee and starts handing out a good proportion of their own income to the needy.
Touring the TV studios grandly pontificating and theorising about poverty whilst doing nothing concrete is showbiz and self promotion.
Shame the BBC doesn't call him out on it….instead of which they lay out the red carpet and treat him as if he is the second coming of Marxism….the opium of the Bien Pensant.