Astonishing lack of journalism from the BBC….but then any chance to attack UKIP and undermine them seems to be the order of the day at the BBC…..
Thanks to David Kay (and Pounce I see) who pointed out this:
UKIP has denied a wreath it laid to mark Armistice Day was a political statement after receiving criticism from other political parties.
The wreath – with a UKIP logo in the centre – was laid at the war memorial on Burrow Hill, Plymstock and one of four laid by the party in Plymouth.
The city council's Conservative and Labour leaders said using a political logo on Remembrance Day was wrong.
Tudor Evans, leader of the Labour-controlled city council, said the logo on the wreath should be removed…."It is very bad taste – we have always made Remembrance Day an apolitical event," he said.
And again:
In neither report was there a mention of this:
Yes…that's  Labour and Conservative Party wreaths…marked up as such.
and let's not forget em…you know…
The Huffington Post manages to get the full picture:
It seems Ukip may not be alone in attaching its logo in this way, as this photo posted on Facebook, believed to be of Wroughton, near Swindon, suggests: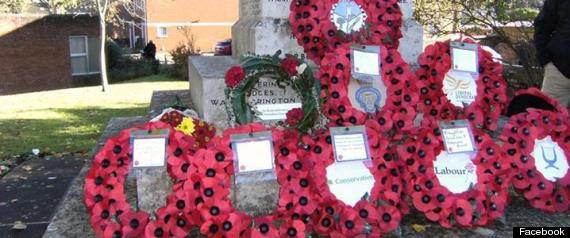 Why not the BBC, probably the world's biggest news organisation?