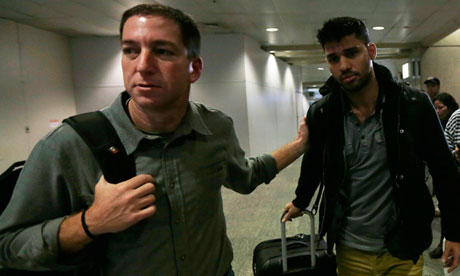 The Guardian is huffing and puffing about the indignity, the complete unfairness of the stop and search on Glenn Greenwald's partner, David Miranda.
 'Journalism is under threat'….it's a 'betrayal of trust and principle.'
Funny how they were completely unconcerned about the arrests of News International journalists…in fact they in effect helped engineer those arrests with the BBC cheerleading all the way…never mind causing the closure of a newspaper and loss of 200  jobs due to Guardian lies.
by Dan Hodges / 13 Feb 2012 14:51
A free press is a sacred right. Dan Hodges wants to know why we aren't more concerned about the arrest of five members of that supposedly free press here in the UK…as Amnesty says "Sorry, this one's not for us."
The Leveson inquiry long ago passed beyond parody. But the ongoing police investigations are no laughing matter. The liberal left will laugh, of course; "Look at the Tory press getting its comeuppance". But one day soon, that laughing will stop.
That laughter has stopped now…the principles espoused by Leveson are being used…and Miranda was on the receiving end of the Guardian's own politicking.
Sweeping measures allow officers to demand information from sources
Changes may also see journalists forced to reveal whistleblowers' identities
Worries over the affect new rules will have on freedom of speech
Police are set to be given new powers to seize confidential material from journalists.
In a worrying blow to Press freedom, the changes may also mean journalists will be forced to identify whistleblowers to the police.
Critics said the Home Office proposals, which follow recommendations made by Lord Justice Leveson, would undermine investigative journalism and free speech.
It is feared that the changes will remove legal protections for anyone who releases material to reporters unless journalists can show their source did not breach confidentiality or act illegally.
'They grievously undermine the concept of confidentiality between reporters and sources that is essential for investigative journalism.'
 In a further attack on PACE, Lord Leveson suggested it could be made easier for the police to seize items belonging to journalists which may be linked to criminality.
The BBC reports our Ambassador in Brazil has been dragged in to explain Britain's behaviour in detaining a Brazilian citizen….perhaps the Ambassador could raise the question of the……
 more than 50 journalists hurt or harassed in Brazil protests
Fierce clashes broke out between protesters and riot police during a demonstration near the Mineirao Stadium in Belo Horizonte on Wednesday. At the time, the sporting venue was playing host to a Confederations Cup semi-final football match between Brazil and Uruguay.
SAO PAULO, Brazil – The Brazilian Association of Investigative Journalism says that more than 50 journalists have been injured, harassed or arrested during the protest demonstrations that have swept Latin America's biggest country since June 17.
The association says in an emailed statement that 34 journalists were the victims of "aggression, hostility or threats by police officers,"
Perhaps the BBC in an example of rounded journalism could mention the hypocrisy of the Brazilian government.