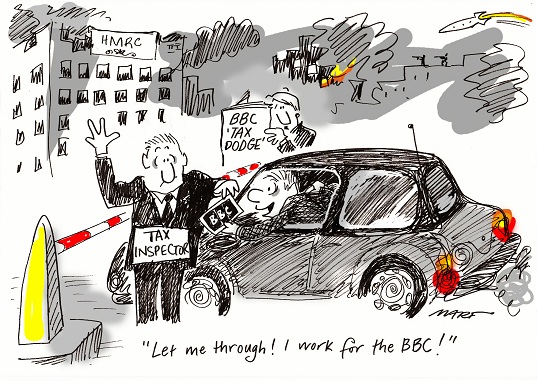 The BBC is enthusiastic about exposing the supposed sins of corporations that minimise their tax obligations….all quite legally….but sooooo immoral!
We know that for some people the BBC is prepared to look the other way….one such person being Labour's Margaret Hodge who has a near 10% share holding in a company that pays barely any tax at all in this country…..
Labour's millionairess Margaret Hodge's family business pays very little tax:
The Labour MP has been one of the fiercest critics of tax avoidance by companies such as Starbucks, Google and Amazon. However, she is likely to face questions over the limited tax paid by Stemcor, the steel trading company in which she owns shares and which was founded by her father and is run by her brother.Analysis of Stemcor's latest accounts show that the business paid tax of just £163,000 on revenues of more than £2.1bn in 2011. However it is not known whether the company – which made profits of £65m – used similar controversial tax avoidance measures criticised in the past by Mrs Hodge. Stemcor's tax bill to the exchequer equates to just 0.01pc of the revenues it booked through its UK-based business.
This from Guido:
Priti Patel Demands Hodge Calls Stemcor to PAC
Priti Patel has written a strongly worded letter to Margaret Hodge demanding that she calls Stemcor in front of the Public Accounts Committee for a grilling –  as Chair of the PAC she would have to stand aside when Stem or gave evidence to avoid a conflict of interest because of her position as a shareholder with millions tied up in Stemcor. Her family firm has a multi-billion pound turnover yet paid a mere £157,000 in tax.
…and engages in 'Transfer pricing'  which is relevant to what follows.
The BBC are running what amounts to a campaign against such companies…part of which is this programme….which is a very one sided and cynical look at mining corporation Glencore…..and note the slightly sinister admission that the BBC has joined up with over 70 other broadcasters to 'push' what amounts to propaganda, around the world……the BBC accuse the company of using 'transfer pricing', especially, to avoid tax…..
Christoffer Guldbrandsen investigates the dark heart of the tax system employed by multi-nationals and asks how much profit is fair.
A BBC Storyville film, produced in partnership with the Open University, Stealing Africa screens as part of Why Poverty? – when the BBC, in conjunction with more than 70 broadcasters around the world, hosts a debate about contemporary poverty. The global cross-media event sees the same eight films screened in 180 countries to explore why, in the 21st Century, a billion people still live in poverty.
After all that it might just be a little embarrassing for the BBC, which rakes in at least £1.5 billion from its own commercial activities, to be revealed as a corporation that hides behind that tired old phrase 'for the purposes of journalism, art or literature' in order to stop people seeing how much tax it does, or doesn't pay.
Remember this is the organisation that went after Student Loans company boss, Ed Lester who was found to be using a tax scheme that meant he didn't pay tax at source…
'Revelations by Newsnight that the chief executive of the Student Loans Company was avoiding paying tens of thousands of pounds in tax in an arrangement signed off by senior ministers has led to a dramatic rethink by the government'
However when the BBC was caught out for doing exactly the same thing it has insisted that it was not a tax dodging scheme…
'The BBC is to review the way hundreds of TV and radio freelance presenters are paid, after suggestions it is aiding tax avoidance schemes.
A commons committee heard claims that one long-term presenter was urged to receive payment off the books "or face a substantial pay cut".
The BBC insisted the arrangements are not in place to avoid paying tax.'
Here is a freedom of Information request that was made earlier this year asking about some of the tax liablities of the BBC in America…the BBC refuses to disclose this figure…..
Ken Tindell
Via email to – [FOI #114766 email]

23 May 2012
Dear Dr Tindall,
Freedom of Information request – RFI20120464 
Thank you for your request to the BBC of 25 April 2012, seeking the following information under
the Freedom of Information Act 2000:
1. The total amount of revenue generated from advertising on the BBC news web site (or a wider
collection of BBC web sites if no specifics for the BBC news web site are available). 

2. What proportion of non-UK traffic of the web site / sites in (1) are from the USA.
3. How much US corporation tax is paid by the BBC on the advertising revenue in (1).
The information you have requested is excluded from the Act because it is held for the purposes
of 'journalism, art or literature.'  The BBC is therefore not obliged to provide this information to
you and will not be doing so on this occasion.  Part VI of Schedule 1 to FOIA provides that
information held by the BBC and the other public service broadcasters is only covered by the Act
if it is held for 'purposes other than those of journalism, art or literature".  The BBC is not
required to supply information held for the purposes of creating the BBC's output or information
that supports and is closely associated with these creative activities.1
You may not be aware that one of the main policy drivers behind the limited application of the Act
to public service broadcasters was to protect freedom of expression and the rights of the media
under Article 10 European Convention on Human Rights ("ECHR").  The BBC, as a media
organisation, is under a duty to impart information and ideas on all matters of public interest and
the importance of this function has been recognised by the European Court of Human Rights.
1 For more information about how the Act applies to the BBC please see the enclosure which follows this letter.
Please note that this guidance is not intended to be a comprehensive legal interpretation of how the Act applies to the
BBC.
Maintaining our editorial independence is a crucial factor in enabling the media to fulfil this function.