The BBC are going overboard on one of their 'special' investigations that has uncovered a shocking figure….500,000 people have been 'forced' to have pre-payment meters installed over the last 5 years.
No other news outlet seems in the slightest bit concerned, not even the Guardian as far as I can see.  Only the BBC has blitzed us all day with this revelation…..never mind that their own graph shows that there was a huge rise in 2009…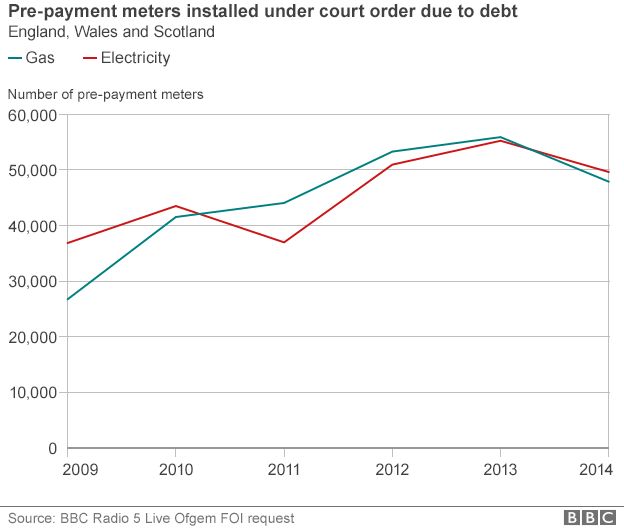 Of course there's no context…no numbers of people who were cut off pre-2009…and figures for pre-payment meters are only available from 2009 apparently so hard to judge what went on before isn't it?
This is an old story…the National Housing Federation ran a campaign from 2006 to 2010 to reduce pre-payment tariffs….
From 2006 to 2010, the National Housing Federation lead a national campaign to ensure that prepay meter customers don't pay a penny more than quarterly billed customers. As of April 2010, all prepay meter customers now pay the same or less than quarterly billed prices.

The campaign was launched in January 2007, when the six million energy customers who pay up front to heat and light their homes via prepayment meters paid over £100 per year more than customers who pay quarterly for the energy. Some prepayment customers were being charged £300 a year more than those on higher incomes paying by online debits.
An old story so why has the BBC disinterred it in such a big way?  Can't imagine that it could possibly be a project to make people think that bad things happen under a Tory government?  The next 5 years bringing us an entirely negative interpretation of events with the BBC seeking out stories that paint the government in the worst possible light just as the BBC seeks out the unemployed, single mothers and their ilk who are so cruelly treated by this world.
Speaking of which the BBC illustrated their tale of woe about the pre-payment meters by having on an unemployed single mother, cruelly treated by this world, in debt and forced to have a pre-payment meter…..she wasn't sure how she'd cope with all the bills and also being taken to court for not paying her Television license……oops what???…suddenly the BBC lost interest and you could hear the strangled tones as the presenter moved rapidly on.
10,000 a year in Wales alone get dragged throught the courts on behalf of the BBC….in the UK as a whole it was 193,000 people in 2012 taken to court.
Why doesn't 5Live do a special investigation into that?  Especially as nearly all the victims will be from the poorest households so  (usually) beloved of the BBC.
Best laugh I had all day!