"iPlayer is swarming with people," one source, who asked to remain anonymous, told MediaGuardian. "They're throwing more and more people at it – a classic mistake – while McKinsey suits run around carrying wads of paper and trying to look important. The BBC often tries to be a software development company, and fails every time."
Channel 4...'Human Swarm'...We all like to think of ourselves as individuals, but this eye-opening documentary, presented by Jimmy Doherty, reveals new evidence that suggests we actually behave like a herd of animals
Cameron talks of a "swarm of people coming across the Mediterranean, seeking a better life, wanting to come to Britain" and Labour's kneejerk dog whistle response is to try to shout him down and berate him for what they like to portray as racist or divisive and inhumane language.
Now it's my guess that most people are with Cameron on this and don't think the language used in any way suggests that he thinks the migrants are 'insects' and dehumanises them in an 'incendiary' fashion as Labour suggest.
In effect Harman, Burnham, Corbyn and all the rest are doing exactly what Brown did when he attacked Gillian Duffy calling her 'a bigoted woman' when she used the word 'flocking' to describe how the immigrants were swarming over here from Eastern Europe.
Perhaps they should all start to apologise, head in hands style, to Cameron.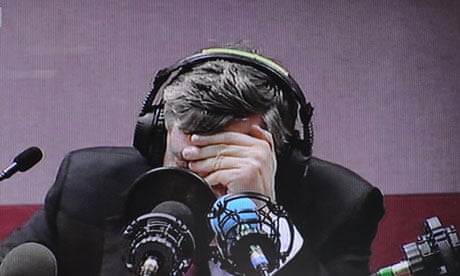 Labour can't help themselves, they see an opportunity for a bit of mud-slinging and pious grandstanding and they jump in with both feet without a single thought entering their little heads.  They know there is huge public concern about immigration, they know this is one of their major weaknesses having let in swarm upon swarm of immigrants whilst lying through their teeth about the numbers, they know something serious needs to be done and yet instead of coming up with a serious policy they decide instead to make an opportunistic attack on Cameron to try and score political brownie points…and yet the public must look on at this and think what a bunch of contemptous little chancers.
The BBC hasn't noticed though and gives Harman and Co all due  respect without challenging their pretentious and sanctimonious posturing.
This was the BBC's top story for much of the day and although they haven't had time to check back on Labour's own record on such utterances they did have time to slam Farage who also mentioned immigrants 'swarming' around him on ITV in the morning and comb the records for other Tory utterances of a similar nature.
Harman herself was once quite concerned about  'cheap workers' and 'labour' coming from abroad undermining wages here….surely she meant the poor, the needy, the desperate and oppressed…surely she should be talking of the human stories of each immigrant and not callously dismissing them as mere faceless 'labour' or 'cheap workers'.  Such divisive, dangerous and toxic language from Harman.
It is odd just how vocal Labour have suddenly become having been very quiet on the subject of Calais as the Spectator points out…..Labour stays oddly quiet on the Calais migrant crisis
The BBC could of course have pointed out that Harman's own son wasn't above exploiting the migrants…is this 'dehumanising' them?…
'Paddy Power has been accused of a crass stunt mocking the Calais immigration crisis as it emerged the acting Labour leader's son was part of the team that created the poster.
Harry Dromey, the son of Harriet Harman, works for the advertising team which took a lorry to Calais carrying a poster urging foreigners to "jump in the back" if they were good at sport.'
Curious that she now villifies Cameron for a single word about the very same people her son exploited so callously for amusement and profit…a single word that in the dictionaries is just as applicable to people as to insects or animals….eg...(a swarm/swarms of) A large number of people or things: a swarm of journalists
Labour are getting a free ride from the BBC on this, the only up side is that most people watching are capable of making up their own minds and it's not the chancers from Labour that are coming out on top, after all it wasn't so long ago that Burnham was boasting of his 'tough stance' on immigration…
In an interview with The Daily Telegraph, Mr Burnham said: "We were in denial. We were behind the issue all the time, and myths were allowed to develop. There's still an ambivalence among some in Labour about discussing immigration. I've been accused of dog-whistle politics for doing so.

"But it was the biggest doorstep issue in constituencies where Labour lost. People aren't racist, but they say it has increased tension, stopped them getting access to housing and lowered their wages."
Labour still in denial about immigration and still claiming others are dog whistling when it is they themselves that are trying to whip up a storm with some self-righteous mud-slinging smears.
Good to see the BBC giving them a credible platform to throw the mud from.